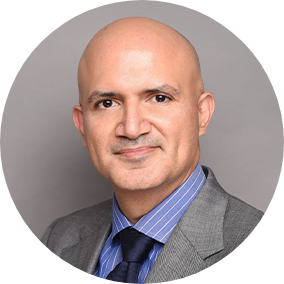 Navin Valrani
Vice Chairman and Managing Director
As Vice Chairman and Managing Director of Al Shirawi Group and CEO of Arcadia Education, Navin Valrani pursues lifelong learning as a personal goal and a core business strategy. After graduating from the Wharton School of Business, he completed his MBA at the London Business School. He also holds a Master's in Education from the University of Pennsylvania.
He is currently pursuing a Doctorate and researching the efficacy of technology in the field of learning. His commitment to education has led him to serve on the Board of Overseers at Penn's Graduate School of Education.
Navin's passions lie in the areas of female empowerment and teaching. He has endowed several scholarships for female students. He also oversees the renowned Junior MBA program, a business curriculum he founded at Arcadia School. His dedication to service and teaching led to him being awarded the William B. Castetter Alumni Award of Merit by Penn's Graduate School of Education.