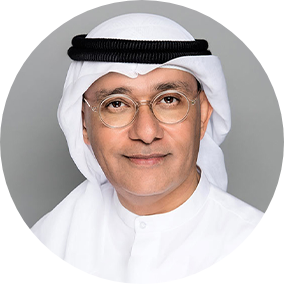 Mohammed Al Shirawi
Chairman
The Al Shirawi Group is headed by Mohamed Al Shirawi as Chairman. His principles and beliefs define the core of our business and the happiness of our employees. Mohamed was educated in the UAE and the USA where he graduated from the University of Southern California in 1980, with a BSc in Industrial and Systems Engineering.
Having completed his education, he started with the Group in 1980 in the steel trading division, followed by the consumer marketing division. Since 1989, he has served as the CEO of Emirates Printing Press LLC and Lunad Media & Communication. He has been instrumental in the success of both companies.
His own success has inspired him to become a patron of a number of charities, each of which he sees as an opportunity to give back to the society that has supported him. Mohamed's passions lie in the areas of reading and traveling, always with a pursuit of being a keen learner.